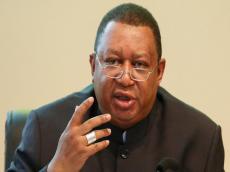 By  Trend
Last November in Vienna, the 14 members of the OPEC cartel agreed upon a deal to cut production as of January 1 by about 1.2 million barrels per day, or about 4.5 percent of production, to 32.5 million barrels per day, Sputnik reported.
"It is early to talk about this [extension of oil output cut deal]. When we meet in May, we will be able to look at all the data … and see what we have achieved," Barkindo told journalists during the CERAWeek energy conference in the US city of Houston.
According to a recent OPEC report, world oil supply fell by over one million barrels per day in January, averaging at 95.75 million barrels per day.
The 36th annual energy IHS CERAWeek conference will bring together at least 3,000 delegates from more than 60 countries from March 6 through 10 to address the most pressing industry issues, states' strategies and policies in Houston, Texas.
This year's sessions will be held under the banner "Pace of Change: Building a New Energy Future," and will focus on the changing energy market "at a time of turbulence and uncertainty."