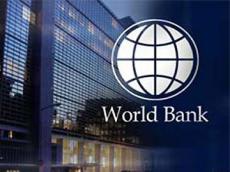 By Azernews
By Nigar Abbasova
The World Bank, one of the most respected financial organizations, forecasts a higher GDP growth for Azerbaijan in 2017.
The growth is projected at 1.2 percent in 2017, according to the most recent Global Economic Prospects report of the WB. In the previous report the bank projected Azerbaijan's GDP growth at the level of 0.7 percent. Economic growth for 2018 and 2019 is projected at 2.3 percent.
Azerbaijan became a WB member in 1992. As of September 2016, the Bank allocated loans to the country worth $3.99 billion, while the funds were used to finance more than 70 projects.
Overall, the WB downgraded the forecast of the global economic growth for 2017 and 2018 by 0.1 percentage points - to 2.7 percent and 2.9 percent, respectively.
In June 2016, the WB forecasted global economy to grow 2.8 percent in 2017 and 3 percent in 2018. In accordance with the updated forecast of the bank, the global economy is expected to grow 2.9 percent in 2018 and in 2019.
The Bank expects the growth to accelerate slightly as recovering oil and commodity prices ease pressures on emerging-market commodity exporters and painful recessions in Brazil and Russia come to an end. The real gross domestic product growth is expected to rebound in 2107 to 2.7 percent from a post-financial crisis low of 2.3 percent last year.
Growth in advanced economies is expected to edge up to 1.8 percent in 2017 from 1.6 percent in 2016, while emerging and developing economies will see growth accelerate to 4.2 percent this year from 3.4 percent last year.
The Bank U.S. growth at 2.2 percent versus 1.6 percent in 2016, but the increase could be considerably larger and have effects far beyond U.S. shores. China's growth would continue to slow, easing to 6.2 percent in 2017 from 6.7 percent in 2016, but growth would edge higher in some Southeast Asian economies, including Indonesia and Thailand. India's strong growth is expected to accelerate, rising to 7.6 percent in 2017 from 7.0 percent in 2016 as reforms ease domestic supply bottlenecks and increase productivity.