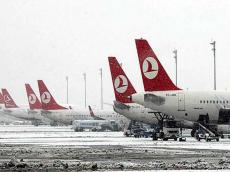 By  Trend
The Istanbul-Baku and Baku-Istanbul flights, scheduled for January 7, have been cancelled due to bad weather in Istanbul, Turkish Airlines said in a message on January 6.
The departure of a Turkish Airlines plane from Istanbul was scheduled for 16:05 (UTC/GMT+3) and the departure of a plane from Baku to Istanbul was scheduled for 20:55 (UTC/GMT+4) on January 7.
The number of cancelled domestic and international flights of Turkish Airlines, scheduled for January 7-8, at Istanbul's airports has reached 192.
It was previously reported that Turkish Airlines has cancelled 32 domestic flights scheduled for January 7 at Istanbul airports.
Earlier, Turkey's meteorological service warned of worsening weather and heavy snow in western parts of the country.