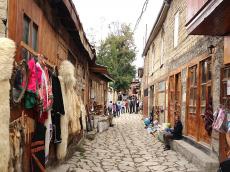 By Azernews
By Amina Nazarli
The growing popularity of Azerbaijan among foreign tourists has led to the emergence of a new trend in the field of local hospitality - rural tourism.  The country's regions began to attract more and more foreign and local tourists, wishing to familiarize with non-western culture and different lifestyle, which they find in rural areas.
Rural or green tourism is essentially an activity which takes place in the countryside and may entail farm/agricultural tourism, cultural tourism, nature tourism, adventure tourism, and eco-tourism.
In contrast to traditional tourism, rural tourism has certain typical characteristics like; it is experience oriented, the locations are sparsely populated, it is predominantly in natural environment, it meshes with seasonality and local events and is based on preservation of culture, heritage and traditions.
Rural tourism growth potential can also be harnessed as a strategy for development of the country's regions.  
The development of a strong rural tourism is definitely useful for a country like Azerbaijan, which has a number of tourist attractions and facilities in its regions. During their stay in rural areas, tourists can enjoy fascinating walks and hiking, bathing in ponds located near. If desired, visitors can also take part in chores, produced by the local population, feeling full immersion in rural life.
The government of Azerbaijan is interested in development of this tourism, which is increasingly being used as a tool to improve the social and economic well being of regions, and ensure its proper organization.
To remove all the shortcomings and gaps in development of the field, the government implements several measures.   
Family farms, wishing to engage in rural tourism in Azerbaijan, will have to pass certification. The issue is reflected in a draft law "On Tourism", Trend reported according to the Parliament.   
Under the draft law at least one member of a family that wishes to engage in rural tourism, must be certified in the field of tourism.
Certification will be based on the requirements of the bill "On family farms" and to do this, business entities need to send a written request to the control body. Upon receipt of the notification, the control body will check the possibility of the family farming to be engaged in rural tourism.
Experts agree that rural tourism cash flows can assist job retention in services such as retailing, transport, hospitality and medical care.
The government conducts phased work to identify areas with high potential for the development of rural tourism, as well as invites foreign experts in this regard. The most attractive places for the development of this new tourism trend are beautiful regions such as Ganja, Shamakhi, Ismayilli, Sheki, Gabala, Zagatala, Lankaran, Lerik, Guba and Khachmaz.