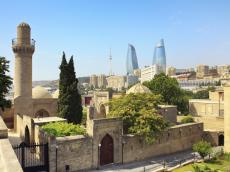 By  Trend
By Amina Nazarli
Azerbaijan is preparing to host major sport and cultural events in 2017 thus attracting wide audiences to the country. The Islamic Solidarity Games, Azerbaijan Grand Prix, International Carpet Congress and the list can go on and on.
TripAdvisor, the travel planning and booking site, has already announced the capital of Azerbaijan, Baku the top spot for Asia in its Travellers' Choice awards for Destinations on the Rise. Baku, or the City of Winds as it's called here, was ranked the 5th in the list of top destinations for travelers in 2017. 
And if you also want to take a trip to the Land of Fire then you are the lucky one, as now it is easier to travel to Azerbaijan.
If you have a vacation plan to Azerbaijan and you don't want get hustled with paperwork, then "www.evisa.gov.az" offers a best solution for you. Foreigners and stateless persons who desire to visit this beautiful country now will be able to get e-Visa through ASAN Visa system with a pretty easy procedure.
Persons who want to visit Azerbaijan will be able to get a visa in just three steps which are completely online:
1. Get started by going into the website www.evisa.gov.az for apply.  
2. Submit necessary information to the system of ASAN Visa and pay the state fee online.
3. e-Visa will be sent to the email of the applicant within three working days.
That's all! All is possible without uploading any copies of the documents, without losing any time in the queue by overcoming a long distance and without any bureaucratic obstacles some leaving the place you are in. The e-visa can be issued to citizens of 81 countries.
Another piece of good news goes for the families who want to travel with nanny and servants to Azerbaijan.
This issue is envisaged in the "Strategic Road Map on development of tourism in Azerbaijan" approved by the presidential order on December 6.

The government will consider simplification of visa procedure for the families (especially from Near East) who want to see the country together with their nannies and servants, who are the citizens of other countries.
Starting 2016, Azerbaijan simplified visa regime for citizens of Qatar, Oman, Saudi Arabia, Bahrain, Kuwait and other countries.
Over the past 10 years, the number of tourists visiting Azerbaijan increased by five times. Today, 4.5 percent of the total gross domestic product falls for income from tourism.
Currently, Azerbaijan has about 300 tourist companies and more than 570 placements.
The country hosts a series of luxury hotels –Excelsior, Hilton, Four Seasons, Fairmont, JW Marriott, Kempinski, as well as many budget hotels for cost-conscious travelers. Soon the country plans to increase the number of two- and three-star hotels of economy class for the development of both inbound and domestic tourism.