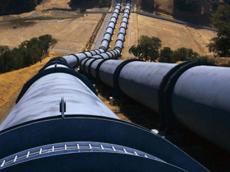 By Azernews
By Nigar Abbasova
Russia's energy major Gazprom has approved a loan worth €310 million to its subsidiary South Stream Transport B.V. to finance expenses associated with the construction of the Turkish Stream gas pipeline, which aims to transfer Russian natural gas to Europe via the Black Sea and Turkey.
The loan will be granted for three and a half years, while the sum will be used to finance payments under the contracts for the supply of tubular products and equipment, storage and performance of construction work, contracts for the purchase of goods, work and services, as well as general administrative expenses.
Gazprom CEO Alexei Miller earlier said that the company completed the construction of facilities required to feed gas to the Turkish Stream pipeline and the Russian side is fully ready for supplies.
The laying of the pipeline in the Black Sea is expected to start in 2017.  The full implementation of the two-leg gas pipeline will reportedly require some €7 billion.
The intergovernmental agreement, which specifies the terms of the implementation, was signed on October 10. The time of completion of the work is late 2019. The agreement envisages construction of two branches of the pipeline under the Black Sea, with the capacity of each branch being 15.75 bcm of gas.
The first line intends to meet Turkey's demands in the energy source, while the second is aimed to provide demand of consumers in Southeastern Europe. The construction of the first branch of the project, which is planned to meet gas demand of Turkey, does not cause any doubts, while opinions on the possibility of the implementation of the second branch are controversial.
Russia's Permanent Representative to the European Union Vladimir Chizhov earlier said that the second line has a good potential, emphasizing that Moscow needs ironclad guarantees that the European Commission will not veto the construction of the second line of the Turkish Stream and the project will not see the fate of the abandoned South Stream.
The European Commission was against the implementation of the South Stream as the project was allegedly in breach of the EU third energy package, which envisages that one and the same company is not eligible to implement delivery and operate the pipeline.
The European Commission has not yet totally refused the possibility of getting supplies from the Turkish Stream. EC's Vice President for Energy Union Morosh Shefchovych earlier said that the issue needs to be analyzed and much will depend on the level of gas demand and commercial reasonability.