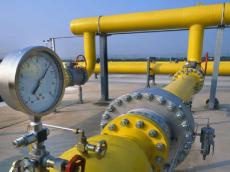 By Gulgiz Dadashova
Moscow's plan to keep its gas leverage by building the Turkish Stream gas pipeline seems to face delays due to a number of developments in Greece and Turkey.
One of the main roadblocks in the realization of the new pipeline, which would carry as much as 63 billion cubic meters of gas to Turkey and southern Europe, is a brewing fight over gas prices between Russian Gazprom and Turkey's Botas.
A six-month period to agree on prices for gas supplies between the two countries expired on Monday. The sides don't seem eager to rush to sign a binding pact for the new pipeline, the second between Russia and Turkey.
An agreement could now be delayed until at least October, as a new government has not been yet formed in Turkey after the latest parliamentary elections.
The ruling Justice and Development Party lost its parliamentary majority in the June 7 election, and needs to form a collation government or hold new elections in case of failure.
If a price accord is reached, a binding deal on the pipeline is possible later this year after the political situation clarified. Thus it is unclear precisely when Turkey and Russia will ink an agreement for the Turkish Stream.
The Turkish Stream is expected to bring Russian gas through Turkey and then to the Greek border. From there, another Gazprom-financed planned pipeline, tentatively called Tesla, would move gas further across the territory of Greece to Macedonia, Serbia, Hungary and Austria.
The delay could be a strong blow to Turkish Stream, which Moscow hopes to finish in 2019 since Gazprom doesn't plan to extend a gas-transit contract with Ukraine after 2019.
Uncertainty about the pipeline is not only linked to gas prices, but also the Greek crisis.
The prolonged Greek debt crisis turned into an obstacle that may indirectly force the Tsipras government out of office.
To solve its financial problems, Greece needs investment, which could potentially come from Russia. If the Greeks choose Moscow, however, the EU's doors will close to Athens.
At a time when Europe is targeting Russia with sanctions to hurt the Russian economy, it does not want to leave any room for Moscow to gain influence through another gas route.
The European Commission earlier announced that Turkish Stream may face the same issues that stalled South Stream, a $45 billion pipeline project that Gazprom dropped in December due to EU resistance. The Russian gas export monopoly argues that its links do not need EU approval.
It seems that Russia's long-awaited pipeline project is going to take quite a while to come on stream.