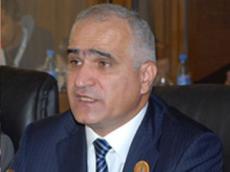 The trade turnover between Azerbaijan and the member countries of the Organization for Economic Cooperation (ECO) increased by 37.8 percent in 2011, Azerbaijani Minister of Economic Development Shahin Mustafayev said at the seventh meeting of the ECO Group of Eminent Persons in Baku, the ministry said on Wednesday.
"Azerbaijan is interested in expanding both bilateral and multilateral cooperation with international financial and economic organizations, including the ECO," Mustafayev said.
The representatives from Azerbaijan, Turkey, Iran, Pakistan, Afghanistan, Kazakhstan and Kyrgyzstan, as well as ECO Chief Secretary Yahya Maroofi and staff of the organization's Secretariat attended the meeting on July 16-17.
The work over the preparation of the report "Enhancing the ECO efficiency, dynamism and potential" completed at the meeting. It will be submitted to the Secretariat of the organization at the meeting in Turkey in September this year.
During the visit, Maroofi met with Azerbaijani Minister Mustafayev. The current state of the country's cooperation with ECO, the prospects of expanding the relations were discussed at the meeting.
The minister said that Azerbaijan has already expressed its intention to acquire three-percent stake in ECO Trade and Development Bank (ECOBANK).
"In early 2012, the ECOBANK Board of Governors received Azerbaijan's appeal on membership," he added. "After the procedures complete, full membership in the bank will be approved. The cooperation with the bank will create new opportunities for financing the private sector, developing the trade-economic relations with ECO member countries."
A group of eminent persons was established at the ECO last summit in December 2010 to investigate and evaluate the organization's activity over the last ten years, to prepare and to submit recommendations and proposals. A decision was made at the summit to hold the next summit in Baku in October this year.
/
Trend
/