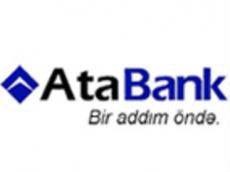 Net assets of the Azerbaijani AtaBank increased by 1.9 per cent, or 4.4 million manat compared to the beginning of the year and amounted to 235.4 million manat, the bank said on Wednesday.
"Results of financial and economic activity of JSC AtaBank for the second quarter of 2012 were successful," the bank said.
There has been considerable stimulated growth in the loan portfolio, constituting the bulk of the bank's assets. The total loan portfolio increased by 12.5 per cent, or 18.4 million manat to $165.1 million manat.
'During the reporting period there was a significant increase in the term of the deposit portfolio. This resulted in this index increasing by 1.9 per cent or 3.1 million manat, reaching a level of 166.2 million manat. This figure stood at 163, 1 million manat at the beginning of 2011. An increase in term type deposits in the bank was also observed during the reporting period. They increased by 6.3 per cent, or 6.4 million manat and exceeded 108 million manat', a statement said.
By the end of June, the return on assets (ROA) and equity (ROE) of the bank amounted to 1.16 per cent and 10.73 per cent respectively.
"Net profit amounted to 2.7 million manat at the end of June. At the end of the reporting period the authorised and aggregate capital of the bank amounted to 25 million and 32.6 million manat, respectively," the bank said.
The number of POS-terminals installed by the bank exceeded 8959 and the process continues today. The number of existing ATMs is 68.
'It should be noted that this year the bank under the AtaMatik project began to provide services to people in specialised vehicles equipped with ATMs over the entire country where there are no ATMs and banking services', the statement said.
At the present time over various regions of the country there are 24 branches and offices of the bank, 12 of which are located in the regions and the rest in the capital.
/
Trend
/