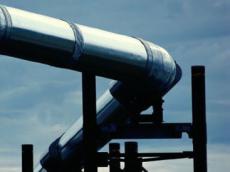 Despite Iranian officials' insistence on early finalizing Iran's gas contract with Swiss EGL company to export Iran's natural gas through Trans Adriatic Pipeline (TAP) to Switzerland, TAP does not intend to transport any gas from Iran. TAP aims to transport 10 bcm of gas from the Shah Deniz Stage II development from Azerbaijan, Michael Hoffmann, Director of External Affairs and Communications of TAP project told Trend on Saturday.
Iran's Fars News Agency's report citing on an unnamed Iranian official, Iran is finalizing the deals to export natural gas to Iraq and Syria (through Islami pipeline), Pakistan (via Peace pipeline) and Switzerland.
According to the report, Switzerland's gas deal aims to export 20-25 million cubic meters of gas.
The National Iranian Gas Export Company and Swiss Elektrizitaetsgesellschaft Laufenburg (EGL) signed a 25-year deal in March 2008 for delivering 5.5 billion cubic meters of gas per year.
Iran has repeatedly announced that Iran's gas is planned to be transited through TAP to Switzerland.
TAP's current shareholders are EGL of Switzerland (42.5 percent), Norway's Statoil (42.5 percent) and E.ON Ruhrgas of Germany (15 percent).
National Iranian Gas Company released a report in April citing managing director of the National Iranian Gas Company (NIGC) Javad Owji's statement about keeping the talks over gas export between Iran and EGL.
On the sidelines of the 17th International Oil, Gas, Refining and Petrochemical Exhibition Owji said that Iran would export gas to Europe via Turkish territory. He added that a decision to sell gas to Switzerland's EGL would require the trilateral talks between the three countries involved.
Iran exports annually above 8 bcm of gas to Turkey.
Iran, which sits on the world's second largest natural gas reserves, is making efforts to boost its gas production by increasing foreign and domestic investments, especially in its South Pars gas field.
However, according to BP statistics, released last month, Iran produced about 151.8 bcm of gas in 2011, while its gas consumption was 153.3 bcm during last year.
The South Pars gas field is shared by Iran and Qatar. The Iranian share, which is divided into 29 phases, has about 14 trillion cubic meters of gas, or about eight percent of the total world reserves, and more than 18 billion barrels of liquefied natural gas resources.
/
Trend
/