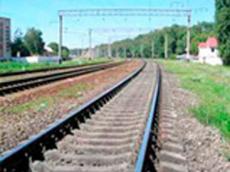 Azerbaijani company Azer Road Service has completed constructing a 29-kilometer section of the railway from Marabda to Kartsakhi, which is part of the Baku-Tbilisi-Kars railway. According to the Georgian Ministry of Regional Development and Infrastructure, the last few meters of the railway have been laid today.
Azer Road Service has also built three stations on the route of the trains.
Georgian Minister of Infrastructure and Regional Development Ramaz Nikolaishvili said that cargo and passengers will be soon transported via the Baku-Tbilisi-Kars railway.
"This railway is a reality," he said. "We will see this soon. Definitely, this is the shortest way between Europe and Asia. We have orders for cargo transportation so that the road will be fully loaded."
The minister has expressed satisfaction with the quality of Azer Road Service's work.
Head of Azer Road Service of the Azerbaijani Transport Ministry Javid Gurbanov has stressed that this is the construction of the century for the countries in the region. "It is of great importance for Azerbaijan, Georgia and Turkey," he added.
On June 21 the minister and Azer Road Service head will visit a station building in Akhalkalaki which is under construction on the project of German architect Jurgen Mayer, the wheel change center and a four-kilometer-long tunnel, which is being built on the border between Georgia and Turkey.
The project of the Baku-Tbilisi-Kars transport corridor includes the construction of the railway branch Kars-Akhalkalaki with a length of 98 km, of which 68 km in Turkey, 30 km in Georgia.
A 183-kilometer section of the Akhalkalaki-Marabda- Tbilisi railway will be reconstructed within the project to increase the capacity to 15 million tons of cargo per year. It is planned to construct a center in Akhalkalaki to transfer trains from the track existing in Georgia to the European one.
Azerbaijan has allocated a soft loan worth $ 775 million for Georgia to construct and reconstruct the Georgian section of the Baku-Tbilisi-Kars railway.
Tranche "A" worth $ 200 million has been allocated for 25 years at 1 percent per annum (includes the work on the project since 2007), tranche "B" worth $ 575 million - for 25 years at 5 percent per annum.
The need for allocating tranche 'B' is associated with an increase in the world prices on construction and raw materials, revaluation of the current state of the Marabda-Kartsakhi railway branch, the operations in adverse weather conditions, etc.
It is expected that about 30 million tons of cargo per year will be transported through the Baku-Tbilisi-Kars railway annually. The Baku-Tbilisi-Kars railway will have a direct way to the European rail network.
The Baku-Tbilisi-Kars railway will increase the flow of container, bulk and other types of cargo from Asia to Europe. The Marmaris project envisaging the construction of a tunnel under the Bosporus will be implemented during this period. This will open a railway communication to Europe.
/
Trend
/