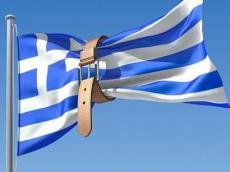 By Ilaha Mammadli 
The Greek crisis remains a headache not only for Greece itself, but also for the countries affected by it. Azerbaijan is not among these countries.
As distinct from Greece, Azerbaijan directed its energy towards maintaining both its political and economic independence despite the outside pressure and refused to join various economic unions.

Azerbaijan, which actively diversifies its assets abroad into various financial instruments, has no investments in Greece for the present. It is a great advantage for the country in terms of avoiding losses.
Greece's financial market didn't attract Azerbaijan's State Oil Fund, since this country's rating didn't meet its investment rules.

The first deal worth $400 million on purchasing 66-percent share in Greek DESFA gas transmission operator by the State Oil Company of Azerbaijan (SOCAR) was delayed due to the current government of Alexis Tsipras. Taking into account the current debts of Greece, these funds would be helpful for this country.

At present, the Greek crisis affected only Azerbaijani tourists who lost their chance to enjoy comfortable direct flights to Rhodes Island, since Baku-Rhodes charter flight was closed before it started functioning.
Initiating of a flight with a delay was the reason. As a result, the number of passengers was insufficient. The problems with a temporary limitation of the Greek banking system are another problem. But this does not mean that there will be no Azerbaijani tourists among those wishing to visit the Greek island.
Meanwhile, an extraordinary summit of the eurozone countries is expected to be held July 7. The fate of Greece will be determined there. Greek people made their choice July 5, by abandoning the program of austerity measures proposed by the "troika" of creditors. The creditors' plan envisaged, in particular, a sharp reduction in public spending of Athens, especially social spending and tax increases in exchange for the refinancing of Greek debts, as well as their partial restructuring.
The Greek referendum does not mean the country's immediately leaving the EU, because there is a lack of the EU basic documents. Moreover, neither the Greek government nor the members of the Eurogroup want this.
Such developments may affect the success of the negotiations held among the government of Alexis Tsipras and European troika of creditors - the European Commission, the European Central Bank (ECB) and the IMF and the rapid conclusion of an agreement on the debts with softer requirements. It is in the interests of the EU countries because if Greece introduces its currency into circulation, the depreciation of assets and the inflation of state debt in euro are inevitable.
Without the support of the ECB, the Greek banking system will not be able to function properly, and investments of the regulator are estimated at 70 percent of GDP. One shouldn't forget that after 2000, when Greece entered the eurozone, machines for printing the national currency had been destroyed. The current financial condition does not allow Greece to bear such costs.

No matter what decision of the summit of the eurozone countries is, the relations between Azerbaijan and Greece will not be affected, and it will not lead to the renewal of the existing agreements, since they regulate the bilateral relations and have nothing to do with the contacts within the EU.

A possible withdrawal from the eurozone doesn't threaten implementation of the Trans-Adriatic gas pipeline project as well, even despite the fact that it is aimed at providing Europe with gas. The Greek territory will be used only for the pipeline laying, and in the absence of any costs for the country, Greece will be able to obtain multi-million dividends in the future. Of course, one should not refuse it.

However, the Greek crisis will still affect Azerbaijan - it negatively affects the European currency rate and leads to the devaluation of national currencies against this background, and the Azerbaijani manat will be no exception.

Withdrawal from the eurozone will not be a solution to problems for Greece, which isn't able to survive on its own, and as a result, the country will have to join the new association in order to get support from new sources. The country has already received an offer to join the BRICS (an association of five major emerging national economies: Brazil, Russia, India, China and South Africa.)