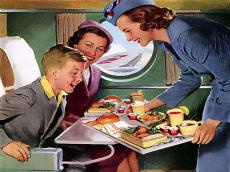 By Amina Nazarli
Do you often travel by plane? So, like many others you probably restore your energy with food offered by airline.
Meal on the plane is a significant issue for all tourists. After a few hours of flight you might get very hungry. But what disappoint the passengers most is the tasteless meal on a board.
Why is this happening? Tourists pay big money for air flights, so why the food on the plane is not so good and nutritious. It seems that all the products are usual, and dishes are traditional but, very rare, economy class passengers will praise their lunch provided during a flight.
Specialists say that food on board is not bad at all. The main problem lies with the passengers and more precisely, their perception of food on board. Essentially, you leave your sense of taste behind the airport gate.
Our taste receptors properly operate only at a comfortable height 3 km. But, a plane is flying at a height of 10 km. That is why our perception of saltiness and sweetness drop inside the pressurized cabin.
Dryness is another factor which gives the effect of "bad taste" to foods. Still on the ground when loading containers, humidity on board decreases, affecting our sense of smell. Then as the plane rises the sensitivity of taste buds decreases in passengers, because of the dry air. At about 10 km, humidity is less than 12 percent.
However, that's not all. The British scientists from the University of Manchester conducted a study and found that incessant noise of aircrafts engines has also a considerable effect on reduction of our taste perception.
A relatively short study involved a total of 48 people. They ate sweets and salty foods both in a silence and noisy condition.
Thus, it turned out that during amplification of noise the meal was less salty or less sweet and at the same time more rigid. All a matter is in human attention. Noise distracts a human from the sense of taste.

By mainly because of the receptors boycott, many people prefer tomato juice on board, even those who don't love it. It doesn't seem so sour on high.
Cooks also add a lot of spices and salt to meal, so that it doesn't have insipid taste. Therefore, for many passengers Asian airlines' meals taste better.
Moreover, meals are prepared and packed long before the departure. Then the stewardesses freeze them, and heat on board. And therefore it is normal that their taste is spoiled to some extent.
Cooks recommend choosing steamed vegetables, rice and other rice dishes, as well as oily fish from the menu aircraft. These are the only products that preserve their flavor and moisture after multiple procedures they pass.
To be honest, taste is not the main priority of the airlines for many companies. The most important is the quality and safety of products, as the airlines are responsible for the health of their passengers.
Azerbaijan Airlines (AZAL), Azerbaijan's biggest airline and national flag carrier also strives to make every passenger feel special and the flight enjoyable.
Although the airline could not give us information about their flight catering because of security issues, we made some research to acquaint you with the process.
One of the companies that enter into contracts with foreign catering companies is located in Baku. The Sky Catering Company has been operating in Baku since 1997 and serves about 26 companies. Vegetables are necessarily tested for pesticides and are purchased only from suppliers who have all needed certificates.
AZAL provides a range of foods to its passengers including hot and cold meals, sandwiches and baked goods, both national and European. It also offers special orders service, but only on international AZAL flights, which must be requested at the time of booking or at least 24 hours prior to the scheduled departure of your flight.
The airline also takes care about kids and prepaid special children menu. It has also a special menu for allergic, which you should order at the time of booking.
AZAL is tolerated all religions and include ethnic meals such as Hindu meal, Kosher (served only on Tel-Aviv-Baku flights), Muslim and Eastern meals to its menu.