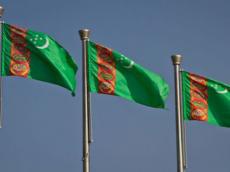 By Aynur Karimova
Turkmenistan, a Central Asian country which shares a border with Afghanistan and Iran in the south, Kazakhstan and Uzbekistan in the north and the Caspian Sea in the west, is keen on strengthening its army.
Despite its neutral country status, which was recognized by the UN, Turkmenistan has said to be keen to boost its military capacity, which is understandable.
Expert on Central Asia and Senior Correspondent at Radio Free Europe/Radio Liberty, Bruce Pannier believes Turkmenistan's desire to improve its army is related with tensions on its border with neighboring Afghanistan.
"It is absolutely the problems in northern Afghanistan that have prompted Turkmenistan to strengthen its army," he told AzerNews.
Turkmenistan has a border with Afghanistan with a length of 744 kilometers and in many places there is no one living in the areas along the border to notice if anyone crosses.
In 2014 three Turkmen border guards and three soldiers were killed along the border with Afghanistan, which shows that "militants on the Afghan side of the border do not intend to respect Turkmenistan's neutrality."
Pannier believes that the real bad news for Turkmenistan is that "Ashgabat does not have any defense agreements with other countries or organizations. So, if Turkmenistan does need help it is not clear where it would come from."
Another main reason standing behind the Central Asian country's willingness to strengthen and improve its army is the 2015 rating of the military strength of the world countries, recently published by the Global Firepower.
In the list, where Global Firepower experts took into account over 50 factors to determine each nation's power index score, Turkmenistan stood at 90th place among 126 countries, which cannot be considered a good result and put the effectiveness of the Turkmen army in question.
Touching upon the effectiveness of Turkmenistan's military, Pannier said the Turkmen military has never been tested and the country's security forces were designed for combating internal threats rather than foreign threats.
"So, we do not really know how Turkmen soldiers would react if attacked or how well they would fight," he concluded.