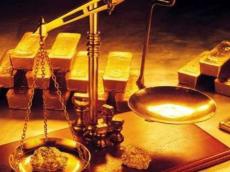 By Gulgiz Dadashova
With gold prices getting ready to soar and declining global reserves, governments, central banks, and investment funds once again turned to gold, as a store of value.
Gold, traditionally viewed by people all over the world as the ultimate money, continues to play a critical and central role in the financial planning of world's central banks and private investors.
Expecting that gold will go out of fashion in the third millennium, the world central banks have reduced their reserve holdings of gold by more than 114 million troy ounces in 2000-2009.
However, the global financial crisis and possible recovery in gold prices was a wake up call for states to increase their holdings. The central banks increased their holdings over the past five years, a reversal from the past two decades of high selling - late 1980s.
Although the United States has kept its position as the biggest holder of reserve gold with 8,133.5 tones, it has been losing ground when it comes to how fast other countries have added to their own reserves since 2009. Emerging and developing countries are fast closing that gap.
Most gold buying countries since 2009 have generally been accounted for by oil-producing countries, especially those in the former Soviet Union.
Thus, Kazakhstan increased its gold reserves for a 30th straight month as Russia resumed its buying trend after a short hiatus, the International Monetary Fund said.
Kazakhstan held 198.4 metric tons in March from 196.1 tons in February, according to data stated on the IMF website. Russia, the world's fifth-biggest holder, boosted reserves to 1,238.3 tons from 1,207.7 tons. Tajikistan cut its holdings to 8.9 tons last month from 9.5 tons in February.
"It's for the diversification of their foreign exchange reserves," Helen Lau, an analyst at Argonaut Securities Ltd. in Hong Kong, told Bloomberg. The countries that have been increasing gold assets are "usually the ones with depreciating currencies," she said.
Gold held the biggest gain in almost three months to trade near $1,200 an ounce. Bullion for immediate delivery traded at $1,201.14 at 2:48 p.m. in Singapore from $1,202.15 on Monday, when prices rallied 2 percent, the biggest gain since Jan. 30, according to Bloomberg generic pricing. Gold in Shanghai advanced.
Gold is a dollar-denominated commodity and when the dollar firms, gold becomes more expensive for other currency-holders, which drives down demand and prices.
Meanwhile, global reserves declined to $11.6 trillion in March from a record $12.03 trillion in August 2014, halting a five-fold increase that began in 2004, according to data compiled by Bloomberg. While the drop may be overstated because the strengthening dollar reduced the value of other reserve currencies such as the euro, it still underlines a shift in positions as central banks -- most of them located in developing nations like China and Russia - added an average $824 billion to their reserves each year over the past decade.
If the volume on the world's foreign exchange reserves continues to decline, this trend may hit the dollar, is the world's dominant currency. Thus, the decline in demand for U.S. debt will threaten the European Union and the economies of developed Western countries.
Not to affect Azerbaijan
Asked about how the declining global reserves will affect Azerbaijan, expert Ogtay Hagverdiyev told local media that it may lead to cut in foreign investments in the country.
"The decline in global reserves will not affect the economy of Azerbaijan, but can negatively affect investment," he said.
Foreign direct investments in Azerbaijan increased by 49.5 percent and amounted to $2,209 billion last year, the Central Bank of Azerbaijan reported.
"The total volume of foreign exchange reserves of Azerbaijan stands at more than $50 billion. Today in our country's gold reserves per capita stands around $ 9,000. By the way, this figure is only $1,500, in Russia," Hagverdiyev said.
The problem of declining foreign exchange reserves is acute in industrialized countries, compared with Azerbaijan, according to the expert.
For example, Russia's international reserves for the week of April 10 to 17 decreased by $3.6 billion to of 350.5 billion. In February they decreased to the lowest level since 2009 – $376.2 billion dollars. According to the forecast of the Central Bank, the international reserves of the country could fall by $50 billion in 2015.
As for Azerbaijan, our country is small, so the serious negative consequences in the economy will be less noticeable.
"Whatever the crisis the country may face, I think, the Azerbaijani government will be able to competently get out of the situation," Hagverdiyev said.