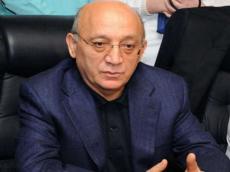 By Mushvig Mehdiyev
If the modernization of Azerbaijan has been a main point of focus over the years, the government has been careful to reinforce the country's inherent moral values: tolerance and solidarity, to use as a foundation for a modern and fair society.
Tolerance in Azerbaijan is more than just a word, it is a way of life. A model to follow, Azerbaijan has successfully managed to marry tradition and modernity, while promoting the nation's religious diversity.
The government keeps tolerance in its constant focal point, mainly through a particular committee that deals with the country's religious affairs. The well-planned activities of the State Committee for Work with Religious Organizations helped develop tolerance based on an equal approach towards all religions and beliefs.
Head of the committee, Mubariz Gurbanli stressed that Azerbaijan is a country of tolerance, where broad-mindedness is well observed in the social and political life.
Exchanging views with Roger Zuckerman, the president of executive board of the Jewish institutions in France, Gurbanli noted that although Azerbaijan is overwhelmingly Muslim - about 96 percent of the population, worshippers of other religions enjoy freedom.
"Jewish synagogues, Orthodox and Christian churches and other religious centers are functioning freely in our country," he noted.
Grubanli's remarks may well be reflected in modern Azerbaijan's image of a perfect worldwide example in terms of religious tolerance, multiculturalism and religious safety. The country is seen as a safe and secure destination for worshippers of all heavenly religions at a time when the world has been hit by reckless religious confrontations.

The authorities view the ethnic and religious diversity in Azerbaijan as a true national wealth. President Ilham Aliyev's direct interest in ensuring safety and security for all ethnic minorities is indeed the reflection of the country's high-level respect and care to its unique traditions of tolerance.
Any threat against religious and cultural values in Azerbaijan is eliminated through a systematic crackdown on any form of radicalism and extremism. The country's leadership has repeatedly announced and warned that Azerbaijan has never been and will never be a land for promoting insidious plans under a religious mask.

Being well aware of the tolerance trend in Azerbaijan, Zuckerman said the secular model of Azerbaijan could be an example for other countries including France. He added that the relations between Azerbaijan and Israel are developing successfully since there are "many factors linking both countries".
"Azerbaijan should be considered a model of tolerance," Zuckerman concluded.
The world is now well aware of the unique tolerance and religious culture in Azerbaijan. Explaining the success behind Azerbaijan's tolerance model worldwide, Gurbanli underlined the irreplaceable merit of Heydar Aliyev Foundation's President Mehriban Aliyeva.
Heydar Aliyev Foundation has made so far unparalleled contributions to Azerbaijan's religious equality and tolerance message. On the initiatives of the Foundation, "Azerbaijan - A Land of Tolerance" photo exhibitions were arranged in various places across the world including Moscow, Paris, the UNECSO and the UN headquarters.
The photos described the lives of Muslim, Jewish and Christian communities that have for centuries peacefully lived on Azerbaijani soil.