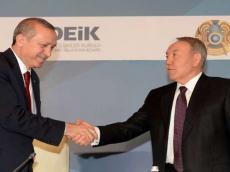 By Sara Rajabova
With growing economic ties with the rest of the world, Turkey, in recent years has focused on more effective cooperation with Central Asian countries. Following the demise of the Soviet regime, Turkey aspires to be a 'bridge' between Europe and Central Asian countries due to its geographic, religious, cultural, and historical bonds with these countries.
Turkey remains a stable economic and political partner to Central Asian states. Developing active collaboration with these countries remains centered on Turkey's immediate and long term economic interests, helping it preserve economic stability, as well as support the seamless transportation of the region's vast energy resources to international markets.
After the collapse of the Soviet regime, those Central Asian countries which have attempted to actively integrate back into the world community have considered Turkey as a reliable partner, best positioned in between Europe and Asia.
The emergence of new transportation and energy projects has encouraged Central Asian countries to be a part of this network and take more benefits from such cooperation.
Turkey, in turn, has increased its presence in Central Asia realizing various economic projects there. In this regard, Kazakhstan is one of Turkey's main partners in Central Asia.
Ankara considers Kazakhstan as one of the most important players in the transportation of Central Asia's energy resources to European markets through the Caspian Sea.
During his recent Astana visit, Turkish President Recep Tayyip Erdogan said energy projects, implemented by Kazakhstan will contribute to the development of the region.
One of the most important areas of cooperation is the development of transport and transit potential in between the two countries. In this regard, Turkey and Kazakhstan discussed the possibility of connecting Zhezkazgan-Beineu railway with a new Akhalkalaki (Georgia) - Kars (Turkey) railway line, which is under construction, with access to the European countries through the port of Baku and Istanbul on the new railway tunnel Marmaray.
Bruce Pannier, an expert on Central Asia and senior correspondent at Radio Free Europe/Radio Liberty told AzerNews that this is a key to better cooperation between Kazakhstan and Turkey.
"Kazakhstan needs to develop its ability to ship not just oil but many other products, metals, possibly grain and other things, across the Caspian Sea. Turkey can help with that, as the country has a long, coastline and hundreds of years of maritime experience," he said.
He went on to add that the expansion of the railway lines through Azerbaijan and Georgia is another important factor in seeing trade between Turkey and Kazakhstan increase. Pannier noted that the Zhezkazgan-Beineu railway line to Akhalkalaki and Kars is a step in the right direction, noting that either the capacity would have to be enormous or parallel railway lines would need to be built to ship larger volumes of goods.
"Kazakhstan benefits from a new export route. Turkey benefits from goods it can import from Kazakhstan and from transit fees for Kazakh goods heading to Europe," Pannier said.
Turkish companies actively cooperate in various fields of the Kazakh economy. More than 1,800 Turkish companies operate in Kazakhstan, and this figure exceeds the number of other foreign companies operating in the country. The total cost of projects implemented by Turkish contractors in Kazakhstan stands at about $17.5 billion.
Over the last three years, the trade turnover between the two countries has doubled - from $2 billion to $4 billion, and this figure is projected to reach $10 billion within the framework of the program New Synergy, adopted by the heads of the two states.
Pannier noted that although Turkey and Kazakhstan enjoy good economic relations, however, their cooperation haven't reached the level of Astana-Beijing cooperation.
"During Erdogan's visit, Turkish and Kazakh officials did sign deals worth some $800 million. That is not bad but I would point out that when Kazakh Prime Minister Karim Masimov visited China last month, Kazakh and Chinese officials signed agreements worth some $23.6 billion," he said.
He added that Turkey's economic situation is different from China's situation as China does have a border with Kazakhstan whereas Turkey is a bit further removed.
"That being said, Turkey and Kazakhstan have a great relationship since the collapse of the Soviet Union and there is much goodwill between the two countries that provide a basis for closer and larger cooperation. For example, Turkey could certainly benefit from some of Kazakhstan's oil and a bit further down the road from some of Kazakhstan's uranium once the Akkuyu NPP is built," Pannier said.