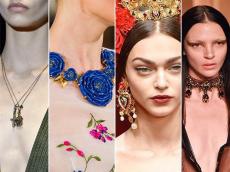 /By AzerNews - Amina Nazarli/
Spring is here and people, irrespective of age will want to make the most out of the gentle rays of the sun. Most girls love to update their wardrobe with the arrival of the new season. If you are a keen fashionista, if style is something you feel passion for then this article is for you!
Charles Eames, a famous American architect and designer said "The details are not the details, they make the design." Many designer-artists and other art people agree with him, as they all highlight the importance of minutiae and accessories. The main trait of contemporary fashion remains the ability to accessorize - layering design.
And though it appears sometimes that innovation in fashion is impossible, somehow, every time designers can manifest new ideas, new ways to accessorize and thus reinvent fashion. Might it be earrings, bracelets, belts, or glasses there are always new ways to mix things up and jazz things up for a brand new look.
Looking through this year's trend it is worth mentioning how diverse and complex fashion has been.
This year fashion houses have used mysticism as an inspiration as well as pre-historic themes, incorporating furs and other "cavemen" references into their design.
This spring designers have said that summer jewelry will see the use of large stones and fragile ornaments. This year you may confidently opt for over-sized pieces with bold details.
If you want to emphasize the beauty of your arms, then you should consider investing in a few upper arm bracelets to update your style.
In an interesting fashion twits, several designers have flaunted their models with two pieces of identical jewelry- bracelets for example. This pairing trend have said sales experts could have been motivated by a desire to cash in on fashion and encourage customers to double their accessories. But then again, not everyone will choose to follow that particular trend.
Smart watches are back in fashion's eye this spring-summer 2015 with incredible designs from Diesel Black Gold and Samsung Gear S. And though not all fashion lovers will appreciate this marriage of fashion with technology, smart watches are expected to trend.
Of course, it is difficult to call this stylish device -- watch, as it combines smart phone
We still do not know however how much those watches will actually cost so far. Apple watches were first advertised in New York at $349. For those Apple shopaholics the company is going to release an 18-carat gold exclusive line.

The Diesel Black Gold and Samsung Gear S will be available in three colors and the bracelets will be made of leather. One more advice for those who will decide to purchase these smart watches: wear them only with casual or smart casual clothes, as this particular accessory will not match well with a business style attire or evening dresses.
When it comes to wearing jewelry remember not to mix small delicate rings for example with bold and over-sized pieces as those two styles do not work together.
If you already bought aviator-type glasses, great news! This shape hardly ever go out of fashion.
Glasses have become a fashion staple and there will be no good collection without a good pair of glasses. This year, over-sized glasses will continue to trend. For those who prefer to done more "normal" sized glasses then maybe white-rimmed shades will a be a better choice.
Now what can give a woman an instant feminine and romantic look? Of course hats! This summer wide-brimmed hats will be in fashion. For dynamic women masculine hats will be a thing.
Beauty requires sacrifice we have been told. Well not so much this year, at least not when it comes to footwear as flat shoes will be in vogue.
From a health perspective this is good news. Statistics have shown that high heels are one of the biggest factors leading to foot problems in women, with up to a third suffering permanent problems as a result of prolonged wear. Heels are a main reason of the undesirable and painful big toe deformation in many women. High heels have also been linked to overworked or injured leg muscles, osteoarthritis of the knee, plantar fasciitis and low back pain.
It seems unlikely that flat shoes will soon go out of trend, as it will be not easy for women to say goodbye to comfort and convenience.
An unstable economic situation should not be a reason to be upset and depressed. Even in difficult times, you can look stunning, while spending very little.
The key is not to spend astronomical amounts of money but rather choose the right accessories to spice an old look and feel brand new again. Moreover, in the high tech era we live in it is rather easy to go online and look for bargains.