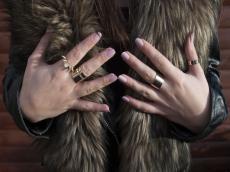 By Amina Nazarli
Today, our appearance plays a very important role in our life as everyone knows the popular expression "a good dress is a card of invitation..." Since ancient times, wardrobe items have indicated the status of the individual in society.
Furs, leather, gold and brilliants are the "must have" of every woman's wardrobe to help her look beautiful and confident. Although many fashion designers have already find ways to substitute natural furs and jewelries to faux materials, some women can not give up wearing clothes and accessories from natural materials.
Fur industry, the most controversial one in the world of fashion, divided between those who do not hide their longing for furs and those who consider this industry inhumane, and express their concern over the treatment of animals.
Fur clothing and accessories are traditionally a choice of only the most wealthy and elite women. Today, this tradition is still alive and even women of the middle class can boast of a new fur coat, as there are enough animal farms, where animals are bred for their fur.
But what is closing the eyes and ears of some people not to pay attention to the cries of animal-rights activists and wear natural materials instead of alternatives?
Stars love to dress scandalous and show their style and taste. Some think that natural fur attracts paparazzi and raises admiration and envy of other women.
Sarah Jessica Parker, a fashion trendsetter and an actress, who played the main character of the film "Sex and the City", always makes her appearance like a work of art and wears fur, even in summer. She believes that every woman should have a fur coat in her wardrobe.
Luxury, luxury, luxury.. this is said mostly about those who wear natural fur to look chic and wealthy. Meanwhile, its exclusivity and high price force many women to prefer natural materials.
In addition to all the above reasons, some claim that natural furs are a universal protection method against the cold. In addition, they're less toxic to the environment than synthetic faux furs, which are made with some of the most toxic chemicals.
The claim applies to the shoes and bags made from snake and crocodile skin. Designers say that purses and other accessories made of snake's skin never go out of fashion. They give their owners an exquisite charm and a special style, emphasizing their individuality.
Jewelries from natural metals and stones give the last touch on a woman's appearance. Some feel that there is nothing useful about expensive jewelries except for distinguishing them for others. However, others think that the glitter of precious metals and stones is mesmerizing.
In Azerbaijani and many eastern countries, especially during weddings, the relatives and guests give gold to the newlyweds as presents as it is a sign of future wealth, well-being and prosperity.
Ahmad Yarlikapov, ethnographer, Ph.D. said to MIR 24 TV channel that in Muslim East gold save a lot of symbolic meanings, instead of the Christian West, which has lost it."
So, "what other functions do they perform when someone wears expensive jewelry, besides displaying wealth?" ask opponents of luxury lovers.
"They are expensive" some people say, and the reason they are expensive means that gold are rare material, so it is unique and makes unique the one who wears it.
Duchess Kate, however, does not need expensive jewelry to look beautiful. At a film premiere, where the Duchess of Cambridge came with a $36 faux crystal necklace from Zara around her neck proved that luxury jewelry is not necessary to look charming.
Some like it because, unlike most alternative accessories, it never loses its value. You can enjoy it your whole life and then leave it to your children or sell it if you run short of funds, what is impossible to do with forgery accessories.
They claim that a currency can rarely loose its value, but gold won't. On the contrary it increases in value over time, which makes it a feasible investment.