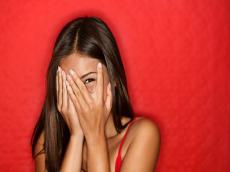 /By AzerNews/

By Amina Nazarli
- Why don't you talk?
- I am just a listener!
That's part of my nature. some people say when others ask them why they are so speechless while taking time with others hiding their shyness behind the excuse of being a "listener."
Reasons
But, what causes some people to be silent amid noisy companions and play the role of an audience for others?
Shyness is a sense that makes you feel uncomfortable to communicate with strangers for fear of being embarrassed. That's why we can feel ourselves shy in one company and comfortable in another one.
For example, in a room full of people whom we know, shyness will be a hindrance to you. It is not because we know these people, but because they know us including our behavior and character. So, we are not afraid of getting into an awkward situation and simply can express our opinions.
However, in a room full of strangers we cannot predict the reactions of others. So, in such situation all our complexes begin to emerge.
Since many people may be considered as shy, let's divide them into several groups, depending on how this feature is usually seen.
First group is those who prefer to meet certain people rarer than others. This category of people includes scientists, artists and poets, who are called introverts.
They are likely to enjoy time spent alone and find less reward in time spent with large groups of people, though he or she may enjoy interactions with close friends.
Psychologist Ibrahim Ibrahimov says mistaking introversion for shyness is a common error. "Introverts, prefer solitary to social activities."
But, shy people fear social encounters, as when these people go on a string of this feeling, they deliberately deprive themselves of many valuable prospects. For example, they are afraid to approach the person whom they like, and get acquainted with him/her.
As for an example, Bill Gates, the world's richest man, is quiet and bookish, but apparently unfazed by others' opinions of him: he's an introvert, but not a shy man.
Those people among the second group are more around us, physiologists say. They are shy only in certain situations or when dealing with certain people. Perhaps the greatest part of mankind can be safely included in this group.
The most common cause of shyness in these people is lack of social skills. In general, they just refuse something including happy dating, promising opportunities, achievement of their goals and desires.
The psychological trauma in childhood is another cause of shyness, some psychologists say.
"Shyness is one's inferiority complex deeply rooted in childhood," Ibrahimov says. The actions which turned into an object of ridicule in the past leave an indelible mark on human psychology, the physiologist said.
"Shyness, of course, is useful for the development of society," physiologist Nigar Mammadova says.
But, "personality often suffers from this feeling, when parents bring up their offspring on constant shaming," Mammadova claims.
There is also another kind of people, who feel awkward with those whom they don't like and try to hide this feeling from others. They begin to behave differently which puts them under the limelight.
How to remove shyness
Shyness in reality is a poor personal quality, which creates a lot of problems. It limits your skills and cultivates other harmful personal qualities including self-doubt, weakness of character, and leaves you prone to others' influence.
"It is a social phobia," Ibrahimov says, "which restricts one to express him/herself and be a part of the society."
Mammadova says that "excessive timidity and shyness is a demonstration of some weakness". You will just get off on the wrong foot on others, the physiologist noted.
Indeed, self-confident and independent personality is quickly catches the eye, as many women prefer those members of opposite sex who shows the greatest perseverance and even a little arrogance in dealing with them.
Shyness is simply an internal feeling, but also an unpleasant feeling that arises in very awkward situations. And some people usually avoid such situations in order not to experience these feelings.
However, this is the wrong option. To overcome shyness one doesn't need to strive to express such feelings, but learn to act against them.
"I stop to be shy as soon as I start to act," said Inna Dehant, an expert on emotional stability. She called this principle "20 seconds of courage."
"If you want to do, ask or say something you must do it immediately, do it within 20 seconds, right away and without any analysis and plan. So, shyness would be removed." she says.
Talking to somebody and sharing your emotions with those who experience the same feelings can help you fight against the unpleasant sense. Getting involved in such groups can give you an opportunity to get out of shyness.
"Sometimes shyness is temporary," noted Mammadova finally "many people grow out of it with time."
So, don't be shy and don't let others scare you back into your shell. Take a deep breath and hold your head up.