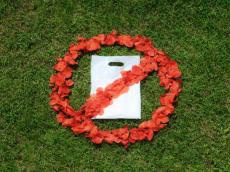 By Nigar Orujova
Have you ever thought how much garbage you create every week, over an entire year or throughout your life? We all come to this world with nothing but our body. However we start to leave behind our first trash with the first diaper.
Piles of garbage raise the ecological warnings. One of the most widespread dangerous trashes is plastic in general and plastic bags, a sign of the consumption era, in particular.
Twenty years ago, plastic bag was in a deficit in our region and people used string and paper bags instead. Today, the situation has changed dramatically.
More than 1,000 plastic bags are used by average Azerbaijani citizen every year. Meanwhile, the number of plastic bags used worldwide is estimated at 1 trillion annually.
Non-compostable plastic bags take 500-1,000 years to degrade. They hurt our children, our animals and damage our nature. Despite this, we use plastic bags in tones, collecting them in our house.
Azerbaijan's capital Baku has been famous for centuries as the city of wind. Nowadays, it is famous for its wind and plastic bags that fly over the city.
Ecologists have called for banning production and usage of the plastic bags in Azerbaijan.
"Azerbaijan needs to stop production the plastic bags! We must not learn from the European experience in this area by reducing the annual usage of the plastic bags. We just have to ban its production immediately," Telman Zeynalov, ecologist, Chairman of the Environmental Council of the Ecology and Natural Resources Ministry, said to the local press.
Plastic bags are made from oil, and the cessation of their production will lead to savings of oil resources, he believes. "We should not forget that the process of decomposition of these packages takes a century. In the process of decomposition, the soil becomes polluted thereby infecting the crops."
Plastic bags production contributes to air pollution and energy consumption. Just imagine that the amount of petroleum used to make 1 plastic bag would drive a car about 11 meters. Meanwhile, trillions of these bags are produced annually around the world.
Europe, for its turn has come to the decision to decrease the usage of plastic bags in the European Union, in order to reduce the production of waste and to reduce the potential impact on the environment.
Today, each European, according to the European Commission, annually uses 198 plastic packages including thin bags and durable package.
It is expected that by 2025, EU citizens will use no more than 45 such packages per year. Today, fewer plastic bags in the EU are used per year by averaged residents of Luxembourg (20), Ireland (20) and Austria (51). Meanwhile, citizens of Bulgaria (421), Czech Republic (330) and Romania (280) use many of these bags.
Europe is now imposing taxes on the plastic bags. In Ireland, usage of plastic bags has decreased by almost 90 percent a few months after the introduction of the tax in 2013.
Azerbaijan can also use this system.
There are also other ways to find a way out – production of bio-plastic bags that are made of plastic that decomposes in natural conditions. But the most effective way is to switch to reusable bags.
People, who are worried about the situation are creating different trends around the world. Some choose to live without plastic, while others try to live with no garbage at all, calling their lifestyle as "zero plastic" and "zero waste." They do not use the traditional packing, and avoid food products garbage.
There are green stores in different parts of the world that offer shopping by weight without any package. People come here with their own bags. This idea is not a new one for our region, as our grandparents used to buy food and other products at bazaars where no package was used.
Maybe it is the high time to recall this tradition as long as the nature has still some chances for survival.