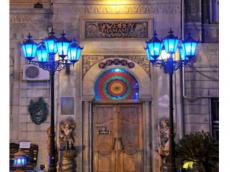 By Nigar Orujova
Feeling chilly, cold and tired? Lost your cheer in the foggy city? Go to Hamam!
The tradition of Hamam is one of the bright and interesting one in Baku. In old times, Hamam was mainly a place for entertainment in the city, where people gathered with their friends and family, relaxed in the warm atmosphere chatting about every issue in the city, or trying to find a match for their son or daughter.
Men used to play backgammon and cards in the cloakroom while drinking strong tea. Women accompanied by kids also washed clothes there and went to the bath at a particular day of the week. Visiting Hamam has turned into a kind of tradition.
Hamams were constructed in the form of a dome, to make the steam that turned into the water flow from the ceiling by walls so that the visitors are not disturbed. To attract visitors, Hamams used the latest architectural details and decor of the waiting rooms.
Despite the fact that, the tradition went out of the date with all the comfortable bathrooms in each houses, traditional Hamams continue to operate in Baku.
The most authentic Hamams in the city are Tazebey Hamami and Meshedi Ehmed both located in the center of the city.
Here you can travel in time to the old Azerbaijan, immerse in the warm water, take a steam bath, and rub-down, all these are especially pleasant while the cold wind is flowing in the city.
Moreover, today's Hamams offers recreational and medicinal bath services based on national traditions and ceremonies, as well as Finnish, Russian steam bath, bath besom, all kinds of massage, indoor pool, sauna, manicure and pedicure.
The duration of the procedures exceeds two hours, while staying in Hamam is not limited in time. After all the procedures, you can drink here a cup of tea or beverage, smoke Shisha, and even eat both national and European cuisine.
There are also a lot of modern Hamams and baths in the beauty and health centers and spas of the city.
Try this form of local traditions in Baku to enjoy your trip in the cold season.