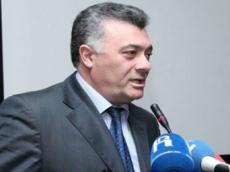 By AzerNews
Serving in the army does not seem honorable any further in Armenia as some conscript-age young are finding new ways to escape it.
So, continuing education in the MA courses has turned into an effective way to avoid military service among Armenian youth.
The issue has sparked deep concerns in political circles of Armenia. The opposition Heritage party plans to discuss the issue during a parliamentary session.
"During fall session of the Armenian National Assembly, opposition Heritage party will deliver 20 legislative initiatives in this regard," the party's leader, Ruben Akopyan said at a press conference on August 26.
He said that a number of bills, including amendments to the law "On the postponement of compulsory military service" would be raised in the parliament.
"The bill would stop the children of influential parents and children of oligarchs and government officials from escaping military service," he assured.
Akopyan said most of these children take MA courses and post-graduate studies through corruption.
"There are 80 percent of male graduate students in Armenia and only a small percentage of them are actually engaged in science," noted Akopyan. "There is no progress in the sphere of science and military in Armenia."
Akopyan also did not rule out the possibility that the bill would be presented in the format of parliamentary Quartet.
Men aged between 18 and 27 are conscripted to army in Armenia.
The military law of the country sets postponement from the army for citizens receiving education at high education university, as well as those attending MA and post-graduate courses.
Experts explain the desire of Armenian conscripts to avoid from the army with the state of war.
For over two decades, Azerbaijan and Armenia have been locked in conflict which emerged over Armenia's territorial claims against its South Caucasus neighbor. Since a war in the early 1990s, Armenian armed forces have occupied 20 percent of Azerbaijan's territory, including Nagorno-Karabakh and seven surrounding regions.
A fragile ceasefire has been in place since 1994, but long-standing efforts by US, Russian and French mediators have been largely fruitless so far. Armenia has not yet implemented the U.N. Security Council's four resolutions on its pullout from the neighboring country's territories.
Each tension in the frontline of the troops puts in alert the parents, making them to either migrate, or find alternative ways to avoid the military service of their children.