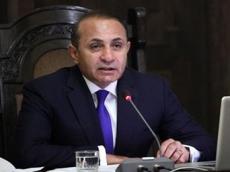 By AzerNews
Armenian prime minister has apparently stumbled upon an original way to solve the country's problems.
"We should establish good private relations in order to solve state matters easier," Hovik Abrahamyan said on the eve of his meetings with prime ministers from Russia, Iran and Georgia.
Russian Prime Minister Dmitry Medvedev is expected to visit Armenia in early September. Meanwhile, Ead of the Georgian government Irakli Garibashvili is scheduled to arrive in Armenia on August 21-22 for an official visit.
"These countries are very important for our economy as there are many projects connected with Russia, Iran and Georgia," he stressed.
The desperate economic state is putting pressure on the former Soviet country, which is suffering from poverty and multiple crises. Aggressive policy towards its neighbors has resulted in economic blockade on Armenia.
Dependence on its giant northern neighbor, Russia makes Armenia quite weak on the geopolitical scene.
Having only a few partners, Armenia tries to preserve its ties with neighboring Russia and Georgia, the two countries which don't have diplomatic relations with each other since the war of August 2008.
Armenia has also yet to decide its future relations with the EU and Russia, the latter which is suffering from a certain amount of tension as well.
"Armenia should continue trade and economic ties with Russia and the EU at the current level," said Vahagn Khachatryan, a member of National Congress Party.
Armenia should explain to the European Union that its economy is unable to join sanctions against Russia, an Armenian economist believes.
"The government needs to determine the interests of Armenia and present them to the public, and afterwards take further steps to improve them," he said while commenting on Armenia's policy to prefer the CU over EU.
Armenia was in the process of joining the EU Eastern Partnership as an associate member, but later abruptly changed the course in favor of the Russia-led Customs Union, which unites Kazakhstan and Belarus.
"Taking into account economic ties with Russia and the presence of Russian capital in Armenia, we must refrain from any hasty step," Khachatryan noted.
The political and social state that Armenia is currently living through, leaves little hope for the smallest South Caucasus country to adopt any political and economic independence.
As a reminder, Armenia still occupies 20 percent of Azerbaijani territory. Returning those lands to the rightful owners would be a step in the right direction.