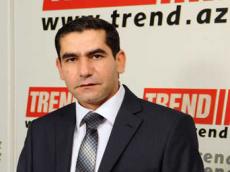 By Dalga Khatinoglu, Trend

Iranian Oil Minister Bijan Namdar Zangane says that Iran's gas production capacity will increase by about 200 million cubic meters in two years.
Mehr News Agency quoted Zanganeh on Aug. 19 as saying that the development plan of the giant South Pars gas field is expected to be completed totally by the end of Iranian fiscal year of 1396 (March 20, 2018).
The development plan of the South Pars gas field started in 1997, during the beginning of Mohammad Khatami's presidency. Five phases of the field came on stream at the time and physical progress of phases 6 to 10 surpassed 60 percent in 2005.
But during two terms of Mahmoud Ahmadinejad's presidency (2005 to 2013) only 10 phases came on stream and the gross gas output of the phases 1 to 10 reached 285 million cubic meters per day.
After Ahmadinejad's administration, phase 12 started early production in February 2014, and its daily production reached 25 million cubic meters per day on July 13.
The joint South Pars gas field is the world's biggest gas field, of which the Iranian side holds 14 trillion cubic meters of gas. The field's reserves account for roughly 40 percent of Iran's total gas reserves, and nearly the same amount of the country's total industrial gas production.
The field is jointly owned by Iran and Qatar, which of the Iranian part is divided into 24 phases.
Qatar's gross gas production at the field is nearly two times more that Iran's output. Qatar is the world's biggest liquid natural gas producer. Qatar annually produces 155 billion cubic meters of gas at its share of the gas field.
According to the U.S. Energy Information Administration (EIA), the figure is exactly 5 times more than ten years ago.
However, Iran's production at the field has been increased only two times in the past decade.
On the other hand, while Qatar extracts 450,000 barrels per day of crude oil from the oil layer of the field, Iran still has not tapped the oil layer yet.
"The first priority of the oil ministry is to develop phases 12, 15, 16, 17, and 18 of the field," Zanganeh said.
"Once the mentioned phases come on stream, the development of other phases will be started," he explained.
The mentioned five phases were 82 percent complete when Hassan Rouhani took the office last year. They are expected to daily produce 182 million cubic meters of gas.
Once all 24 phases of South Pars gas field come on stream, the field's total gas production is expected to reach one billion cubic meters.
On the other hand, Iran daily produces 400,000 barrels of gas condensates, and South Pars gas field's output accounts for the lion's share of the mentioned figure. Once the gas field fully comes on stream, its gas condensates production is expected to surpass one million barrels per day.
Iranian oil minister also said that the gas field will fully become operational by the end of the Iranian calendar year of 1396 (to end March 20, 2018).

"By increasing Iran's total gas output especially from joint fields, the country's liquid fuel consumption in industrial units and power plants will be reduced," Zanganeh explained.
A gas shortage forced Iran to burn 28 billion liters of diesel oil and mazut in power plants last year. According to National Iranian Gas Company's official statistics, Iran delivered 36 billion cubic meters of gas (some 100 million cubic meters per day) to power plants last year. The figure is projected to reach 42 billion cubic meters in the current year.
Mehr News Agency on July 29 quoted NIGC's managing director, Hamidreza Araqi, as saying that Iranian power plant's gas consumption in the first four months of the current year increased by 40 percent compared to previous year.
"Iran has averagely delivered over 160 million cubic meters of gas per day to power plants from the beginning of the current Iranian calendar year so far," he said, adding that the figure even reached 230 million cubic meters in late July.
The U.S. Energy Information Administration's assessment about the development of South Pars project
Phase

Natural gas
capacity (Bcf/d)

Condensate
capacity
(bbl/d)

Participating
companies

Start year or expected start date

1

1

40,000

PetroPars,Petronas

2004

2

2

80,000

Total, Petronas, Gazprom

2002

3

4

2

80,000

ENI, PetroPars, NaftIran

2004

5

6

3.9

156,000

Statoil, PetroPars

2009

7

8

9

2

80,000

PetroPars

2011

10

11

2

80,000

PetroPars

2020+

12

3

120,000

POGC, NIOC, PDVSA

2014

13

2

80,000

Mapna, Sadra,Pedro Pidar

2020+

14

2

77,000

IDRO, IEOCC, NIDC

2017

15

2

80,000

POGC, ISOICO

2015

16

17

2

80,000

PetroPars, OIEC, IOEC

2016

18

19

2

77,000

PetroPars, IOEC

2018

20

2

75,000

OIEC

2017

21

22

2

77,000

Petro Sina Arian, Sadra

2016

23

24
Dalga Khatinoglu is a specialist on Iran's energy sector and head of Trend Agency Iran News Service