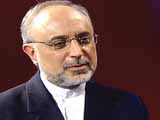 The use of human rights as a pretext to achieve political end must be denounced, and the issue should not be abused, Iran's Foreign Minister Ali Akbar Salehi said, Press TV reported with reference to IRNA.
"We should raise the issue of human rights without taking sides in favor of certain countries," Salehi told reporters in Geneva at the 16th session of the UN Human Rights Council.
He pointed to the ongoing developments in the region and said, "There are two forms of popular movements, which include moves that are administered by others and few people take part in them. These moves exist in all countries."
"But on the opposite side, there are true popular movements," the top Iranian diplomat added.
Salehi stressed the importance of distinguishing between true popular movements and those which are led by "foreign powers."
The Iranian minister added that he held "clear and frank" discussions with his counterparts on Monday and noted that all sides may naturally be critical of the view points of others.
"We discussed issues that have had good outcomes so far," Salehi concluded.
On the sidelines of the 16th session of the UN Human Rights Council in Geneva, the Iranian minister held talks with his Russian, Austrian and German counterparts as well as EU's foreign policy chief Catherine Ashton.
On 14 February, thousands of demonstrators came out in Tehran and other major Iranian cities. Organizers called a rally in solidarity with protestors in Egypt and Tunisia. However, Iranian security forces suppressed demonstrations across the country, reportedly attacking crowds with tear gas, paint bullets, sticks, electric batons and live ammunition. There were reports that one demonstrator was killed.
The 14 February gatherings were not limited to Tehran. Demonstrators in Isfahan, Shiraz, Kermanshah, and Gilan province came out in significant numbers. There were clashes between demonstrators and plainclothes and Special Police Forces in those areas.
From December 20, 2010 to January 30, 2011 alone, the Islamic Republic of Iran has executed over 118 individuals while many more await to face the gallows. In recent years, Iran has had the highest rate of executions per capita in the world.
/
Trend
/