Courtney Love has branded Lily Allen "lame" after she prevented her from wearing a Chanel dress to the Brit Awards.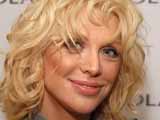 The Hole frontwoman was left irritated earlier this week when the 'Not Fair' popstar struck an exclusive agreement with the iconic fashion house, which meant Love was unable to don a Chanel gown to the event at London's Earls Court.
She told Absolute Radio: "I wanted a Chanel couture dress but Lily Allen blocked them out. And that's lame, because I remember J-Lo had a lock out on Valentino one year but she shared with me."
The 45-year-old went on to discuss her recent address to the students of Oxford University.
She explained: "It was so fun. I had so much fun there. You wouldn't believe it. There were people who looked like Harry Potter.
"And they seriously took the whole rowing thing to a new level. Some girls were dressed in Laura Ashley, but some girls looked really slutty. I was into it. It was really exciting, I was really thrilled."
/Digital Spy/