Baku is discontent with the activity of the OSCE mediators brokering talks on settling the Armenia-Azerbaijan Nagorno Karabakh conflict, a senior official said.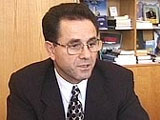 "Nevertheless, we hope that the problem will be resolved this year," the head of the President's Office international relations department, Novruz Mammadov, told a local TV channel.
Mammadov noted that there is currently no other organization working to settle the dispute more promptly and efficiently than the OSCE Minsk Group.
"In any case, Azerbaijan will ensure its territorial integrity," he said and added that the path of development the country is pursuing enables to say that the hopes will be justified.
Azerbaijan and Armenia fought a lengthy war that ended with the signing of a cease-fire in 1994, but Armenia continues to occupy Nagorno Karabakh and seven other Azerbaijani districts in defiance of international law. Despite numerous rounds of negotiations, peace talks have been fruitless so far and refugees remain stranded. Assa-Irada
/BakuTODAY.net/