The decision of European Court of Human Rights on "Ramazanova and others against Azerbaijan" was announced.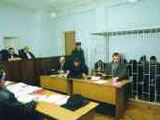 The plaintiffs has defined that 11th item (Freedom of Assembly) of European Convention has been violated. The court passed decision to pay EUR4 000 for spiritually injury and EUR 2 000 for financial costs.
It should be noted that ECHR received the claim on this case in November, 2002. The plaintiffs are –Nabat Ramazanova born in 1947, Zerife Gemberova born in 1952, Eldar Alizade born in 1947 and Emin Zeynalov born in 1949, these people appealed to ECHM situated in Strasburg on ensuring their rights claiming that the court in Azerbaijan are not independent and local defense opportunities are ineffective.
Azerbaijani authoritative representative to ECHM Chingiz Asgarov told the APA that the ECHR misinterpreted Azerbaijani law, and according to the law on Grant only legal entities can receive grant, and it limits the work of NGOs. Both legal entities and individuals can receive grant. As law on Grant has no relation with this case, this law was not quoted to in the correspondences with Azerbaijani government.
Asgarov also was not satisfied with the case that non-registration of NGOs is violence of law and noted that NGOS can not work without registration.