The meeting of the Armenian and Azeri Presidents in Minsk was positive and proceeded in a good atmosphere, RA Foreign Minister Vartan Oskanian told a news conference in Yerevan.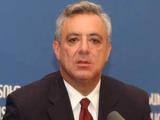 In his words, the Presidents discussed the issues that needed coordination. "The talks have not reached a deadlock, they are going on. The Presidents ordered the Foreign Ministers to meet and elaborate a package of documents. The meeting will Elmar Mammadyarov will take place in Brussels on December 4 and we will consider the possibility of a new presidential meeting. As for the proposals I rate them as realistic and logical," the Minister said.
Vartan Oskanian also remarked that the Co-chairs of the OSCE MG on the Nagorno Karabakh conflict settlement will be present at the meeting. Besides, the OSCE Foreign Ministers will discuss the activities of the organization and pass a political statement on conflicts, including the Nagorno Karabakh one. "We are holding talks with the Azeri side but agreement has not been achieved on some items yet," Oskanian underscored.
/PanARMENIAN.Net/