Armenian minister rules out military conflict settlement.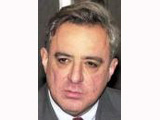 Armenian Foreign Minister Vardan Oskanian has ruled out the use of military action to solve over a decade-long dispute over Nagorno Karabakh.
"There is no military settlement to the conflict. Azerbaijan had started the war and lost. If hostilities are resumed, the same thing will happen," Oskanian alleged.
As for the continuation of the peace process, he said it will be known after the
Azeri Foreign Minister Elmar Mammadyarov's upcoming visit to the United States whether the talks will be continued.
"The date of our next meeting will be known after his meetings at the US State Department."
Oskanian added that it is premature to speak of another meeting between the two countries' presidents.
The parties failed to agree upon the issues of principle during the talks held by Presidents Ilham Aliyev and Robert Kocharian in France in February, which was followed by mutual threats, AssA-Irada reported.
/AzerNEWS.net/