The district (city) courts of Azerbaijan reviewed 20,117 appeals on voter's lists in the 6 November, 2005 parliamentary elections in Azerbaijan. 20,105 of them (99.9%) were satisfied and 12 were rejected. Prosecutor's Office of Republic (POR) and Central Election Commission stated in the joint report on election frauds.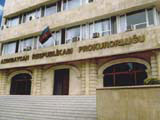 As APA reports, the Court of Appeal received 71 cases related to violation of electoral rights after the elections and complaints of decisions of the election commissions. All of these cases were reviewed, and decisions were made accordingly.

The Court of Appeal also received 57 complaints of the final decision of the Central Election Commission, and none of them were satisfied. In Supreme Court Appellation resolution on 38 cases were kept without any change. In general 18 out of 183 cases have been considered.
3 of the cases have been put an end, 2 criminal case stopped, investigation on 2 criminal cases are continued, 11 criminal case have been sent to Court and verdict was announced on 8 of them. During the lections for interference the election process 3 regions-Sabirabad, Surakhani, Zagatala regions executive Power chiefs have been dismissed from their posts, as well as a deputy executive power chief and 6 local representatives of executive power chiefs were discharged from their posts, other measures of administrative character have been implemented.