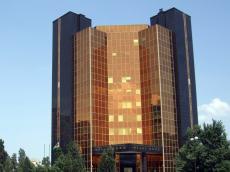 By Azernews
In order to ensure the organization and functioning of payment systems in the country, as well as to maintain the stability of the banking system, the Central Bank constantly pays heed to the continuous development of interbank centralized payment systems and the further development of effective cooperation relations with international organizations, Azernews reports, citing the Azerbaijani Central Bank.
In this regard, the SWIFT delegation visiting Azerbaijan was at the Central Bank and held a joint meeting with SWIFT Users Group, which includes the representatives of commercial banks and the relevant financial organizations operating in Azerbaijan. During the meeting, the parties discussed the current state of the country's national payment infrastructure, the work done on the transition to ISO20022 international standard, the prospects for the development of payment services, current and future activity programs implemented by SWIFT, including the main features of SWIFT's compliance solutions, as well as the goals and principles of the customer security program. At the meeting, practical discussions were held in the direction of expanding the scope of innovative payment services in the country, as well as providing reliable, sustainable and secure payment solutions within the framework of joint cooperation with SWIFT.
To note, for the purpose of forming competitive, innovative and accessible financial services in the country, the focus will be on the constant development of cooperation relations with international organizations and the effective implementation of appropriate measures in this direction.