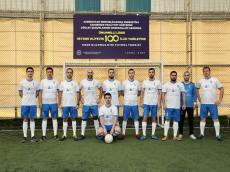 In accordance with the Action Plan approved by the Azerbaijani ENergy Ministry regarding the declaration of 2023 as the "Year of Heydar Aliyev", a mini-football tournament dedicated to the 100th anniversary of National Leader Heydar Aliyev has started among state institutions operating in the field of energy.
Azernews reports, citing the ministry that the tournament organized for the purpose of commemorating the memory of the national leader, who paid great attention to the development of sports, as in all other fields in our country, as well as promoting a healthy lifestyle, is being held with the support of the Azerbaijan MiniFootball Federation.
Awarding of players is planned, and the first three teams and a number of nominations in the tournament was attended by the office of the Ministry of Energy, the Agency for Regulation of Energy Issues under the ministry, the State Agency for Renewable Energy Sources under the ministry, SOCAR, "Azerenergy" OJSC, "Azerishiq" OJSC and "Azeristiliktehizat" OJSC .
The final game and award ceremony will be held on May 6.