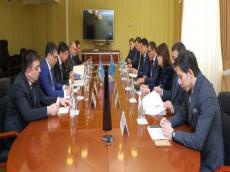 The Azerbaijani delegation including heads of various governmental bodies is on the visit to Kazakhstan, Azernews reports.
The delegation led by Chairman of the Azerbaijani Audiovisual Council Ismat Sattarov had a number of meetings in Astana on March 31.
The meeting with Kazakh Minister of Information and Social Development Darkhan Kydyrali discussed the ways of deepening of information cooperation between the two countries and the development of relations between media outlets. The meeting heard that Azerbaijan's Media Development Agency and Kazakhstan's Ministry of Information and Social Development signed a Memorandum of Understanding on August 24. 2022. The document sets out mechanisms of shaping bilateral relations in the field of information, protection, and promotion of national interests in the media landscape, expansion of experience exchange, and other issues. Taking effective steps to strengthen information and media partnership and ensuring regular contacts among respective bodies was stressed as the major goal.
The delegation also met with the chairman of the Kazakh Information and Social Development Ministry's Information Committee Eldos Nashirali and the Director of the Central Communication Service under the President of Kazakhstan Askar Umarov. The parties discussed the ways of exchanging information in various fields and expanding cooperation.
The Azerbaijani delegation's Kazakhstan trip is underway.