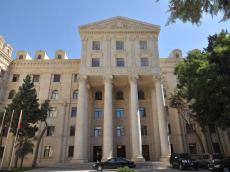 By Azernews
Azerbaijani Foreign Ministry Spokesperson Ayxan Hajizada has strongly condemned claims of the head of the EU Mission in Armenia, Markus Ritter, that Azerbaijan is allegedly preparing for some sort of attack, Azernews reports.
Commenting on the EU diplomat's remarks made in an interview published in the German newspaper Deutsche Welle, Hajizada pointed out that Azerbaijan has repeatedly emphasized the need to prevent this mission from being misused to undermine the normalization process between Azerbaijan and Armenia.
It should be ensured that the presence of the EU mission in Armenia takes into account the legitimate interests of Azerbaijan, as well as that the activities of this mission are carried out by the EU in a way that do not undermine mutual trust and confidence. Armenia should not be allowed to abuse the presence of the EU Mission to aggravate the situation and evade its obligations," the official stated.
Furthermore, he called on the EU Mission not to make false and slanderous allegations and act in line with its mandate.