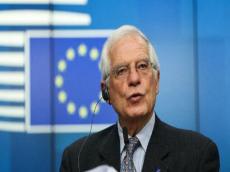 The EU foreign policy chief on Thursday called on both Kosovo and Serbia to implement all parts of the EU-brokered deal that was reached on March 18.
"The agreement was agreed, it has to be implemented, and there is no room for picking and choosing," Josep Borrell told reporters on the way to the EU leaders' summit.
He referred to the deal between Kosovar Prime Minister Albin Kurti and Serbian President Aleksandar Vucic on implementing the EU's agreement on normalizing the relations.
The agreement implies the recognition of Kosovo as an independent state by Serbia that Serbian Foreign Minister Ivica Dacic ruled out earlier on Wednesday.
"Any attempt to question this agreement is futile," Borrell pointed out, stressing that the deal "is a whole, has to be implemented by all parts."
"I would advise them not to point at anyone but to do their work," he further said, adding that the bloc will "closely" watch the outcome.
During a visit to the Austrian capital Vienna, Dacic explained that the EU-brokered deal "is not an agreement on the recognition of Kosovo" and her country will implement it based on their "red lines."
"This means that we will not recognize (Kosovo) and we will not approve Kosovo's membership to the United Nations," she added.
Launched in 2011, the EU-led Belgrade-Pristina Dialogue aims to find a mutually agreeable solution for the disputes in the framework of a legally binding agreement.
Following last summer's border tensions, Miroslav Lajcak, EU's special representative for Kosovo-Serbia dialogue, presented in September the bloc's latest proposal on normalizing relations.
Kosovo declared its independence from Serbia in 2008, with most UN member-states, including the US, UK, France, Germany, and Türkiye, recognizing it as a separate autonomous country.