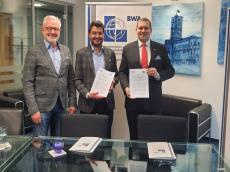 By Azernews
The German Delegation of the Confederation of Entrepreneurs of Azerbaijan (ASK Germany) has signed a memorandum of understanding with the German Federal Association for Economic Development and Foreign Trade (BWA) in order to promote economic cooperation and investment opportunities between Azerbaijan and Germany, Azernews reports.
Elnur Huseynov, the head of the German representative office of ASK, and Urs Unkauf, the Federal Managing Director of BWA signed the Memorandum in Berlin. The purpose of the agreement is to expand cooperation in the fields of investment, import-export, and mutual business projects. The memorandum seeks to create a framework for joint initiatives, projects, and events to promote better understanding and cooperation between the business communities of Azerbaijan and Germany.
In addition, both institutions plan to invite a German business delegation to Azerbaijan to explore investment opportunities. The invitation process is currently ongoing and is expected to stimulate the development of more trade and business relations between Azerbaijan and Germany.
This strategic partnership between ASK Germany and BWA is an important step forward in the development of economic partnerships between Azerbaijan and Germany and is expected to create new opportunities for investment and business cooperation in the coming years.
The Federal Association for Economic Development and Foreign Trade (BWA) was founded in 2003 and has about 1000 members. This organization brings together leaders from science, business and public life who defend the ecological-social market economy. In cooperation with the United Nations Conference on Trade and Development (UNCTAD), it is an official sponsor of the World Trade Points Federation (WTPF) in Germany, a global project database for entrepreneurs.