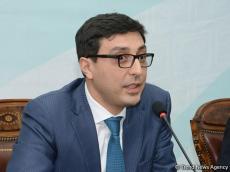 By Azernews
Laman Ismayilova
European Gymnastics (UEG) President Farid Gayibov highlighted the results of the FIG Executive Committee (EC) meeting and gymnastics competitions.
"As many of you know, the month of February is mainly consumed with preparations for the beginning of our season. Nevertheless, I was glad to touch base and catch up with our partners in Switzerland, and I got a chance to attend the first World Cup in Trampoline Gymnastics traditionally held in Baku. I was pleased to see how many athletes progressed in comparison to last year, which enriched the excitement of the competition. Soon after, World Cups in Artistic Gymnastics followed, the results of which showed that many gymnasts have been working hard during their training, improving their scores and, in some cases, bringing new names to the podium. It is always pleasing to see new generations coming in and proving their abilities on the field of play. In the beginning of March, I participated in the FIG Executive Committee (EC) meeting. The first meeting of 2023 proved to be productive, where a lot of issues were discussed. The EC approved a package of aid to the national gymnastics federations of Syria and Turkiye following the tragic earthquake. We also agreed to submit the 2022 financial report, the auditors' report and the 2023 revised budget to the next Council meeting in Antalya (TUR) in May 2023, for approval," said in the note.
In his message, Farid Gayibol also touched upon some amendments to the FIG rules.
"Some amendments to the FIG rules and the apparatus norms were also approved at the meeting. We were excited to approve a proposal to see the Spanish Rhythmic Gymnastics Group who took the silver medal at the 2016 Rio de Janeiro Olympic Games act as ambassadors for the 2023 Rhythmic Gymnastics World Championships in Valencia (ESP). Approvals were also made for the events that will act as qualifiers for Paris 2024. As the Big Games get closer, the tension rises. I wish all of our gymnasts luck in their preparation and hope this season will be fruitful in strength and ambitions," he concluded.
Formed in 1982, European Gymnastics is one of five continental unions that represents the interests of Europe in the International Gymnastics Federation.
UEG represents quite different facets of the sport: from Olympic sports to gymnastics for all.
The Azerbaijan Minister of Sports and Youth Farid Gayibov has been heading UEG since 2017.
In December 2022, he was re-elected president of the European Gymnastics Union (UEG) by a majority of the votes.
The decision was announced at the 29th UEG congress in Albufeira, Portugal.