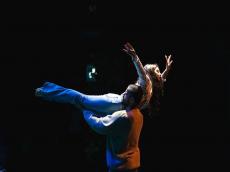 ESA Inclusive Theater will present a play "Of Mice and Men" on February 12, Azernews reports.
Directed by Nihad Gulamzada, the play is based on John Steinbeck's novel (1937).
The novel narrates the experiences of George Milton and Lennie Small, two displaced migrant ranch workers, who move from place to place in California in search of new job opportunities during the Great Depression in the United States.
Steinbeck based the novella on his own experiences working alongside migrant farm workers as a teenager in the 1910s.
The play has been repeatedly staged at the ESA Inclusive Theater.
Founded by Nihad Gulamzada, ESA Theater destroys all stereotypes in theater art. It is the first inclusive theater with actors with disabilities in Azerbaijan and the Caucasus.
The theater's progressive goals include ensuring and accelerating the social integration of persons with disabilities, ensuring joint activity of people with or without disabilities, raising their social and public welfare, promoting them to deal with not only theater but also other art fields.
Over the years of its activity, ESA has delighted its audience with magnificent performances.
ESA actors have won the hearts of spectators with plays based on the works of eminent playwrights. The theater's program includes such plays as "Of Mice and Men", "Paris exploded", "Blue Bird", "Nasimi: Mystery" and "The Oath".