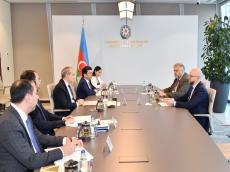 Azerbaijan's Economy Minister Mikayil Jabbarov met with Konstantin Limitovsky, vice-president for investment operations of the Asian Infrastructure Investment Bank (AIIB), Azernews reports, referring to the Economy Ministry.
At the meeting, Economy Minister Mikayil Jabbarov spoke about Azerbaijan's cooperation with AIIB, the bank's activities in the direction of ensuring a "green" and sustainable future, and gave information on the work done in our country in the field of ensuring sustainable development.
"Special importance is attached to continuous economic growth within the framework of `Azerbaijan 2030: National Priorities for socio-economic development', as well as the application of `green' and `smart' concepts in the reintegration work carried out in liberated territories," the ministry noted.
It was emphasized that in the Strategy for socio-economic development for 2022-2026, implemented according to the strategic directions defined in the National Priorities, the transformation of the public sector to a new quality, improvement of the quality of the ecosystem, sustainable development of business, human capital, and wide application of digital economy and innovations creation of fertile conditions is one of the main goals, the ministry added.
AIDB's vice-president for investment operations, Konstantin Limitovsky spoke about the measures implemented by his institution in the direction of stimulating economic growth and infrastructure development in the Asian region, noted the effective cooperation of the bank with Azerbaijan, and shared his views on the possibilities of partnership development.
At the meeting, the parties discussed the main directions of potential cooperation, the future priorities of AIIB in Azerbaijan, and the possibilities of implementing projects in our country with the bank's financial support.