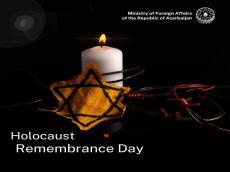 The Azerbaijani Foreign Ministry shared a tweet in honor of International Holocaust Remembrance Day, Azernews reports.
"On this day, we remember and mourn the victims of one of the most revolting atrocities in human history - the Holocaust. We stand united against religious and ethnic hatred, genocide, and crimes against humanity," the tweet said.
As designated by UN General Assembly, January 27 - the anniversary of the liberation of Auschwitz-Birkenau - is marked around the world as International Holocaust Remembrance Day.
On this annual day of remembrance, the UN urges all member states to remember the 6 million Jewish Holocaust victims and millions of other victims of Nazism, as well as to develop educational programs to help prevent future genocides.
Holocaust Remembrance Day is marked in Azerbaijan annually.