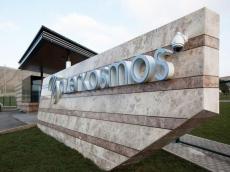 Azerbaijan's satellite operator Azercosmos and CommCarrier company, a satellite services provider for Kenya, have signed a long-term cooperation agreement, Azernews reports.
"We are pleased to see the use of our satellite services by government and private entities in the African region. CommCarrier is a reliable partner for the region and we are already accelerating our work on perspective business projects," Deputy Chairman of Azercosmos Fuad Aslanov said.
Under the cooperation deal, the use of satellite internet by Kenyan state services has started today through the Azerspace-2 satellite. CommCarrier company will serve its partners in the Central and Eastern African region under the KU range of the Azerspace-2 satellite.
"Thanks to our cooperation with Azercosmos, the capabilities of the Azerspace-2 satellite, especially in central and eastern Africa will give us the opportunity to successfully meet the growing demand of our partners," the director of CommCarrier, Giri Babu expressed.
Headquartered in Nairobi, Kenya, CommCarrier started operating as a telecommunications operator in 1995. CommCarrier is considered the first company to deploy VSAT technology – satellite communications in areas without a terrestrial communications network. As the leading telecommunications company in the African region, it successfully implements government projects.