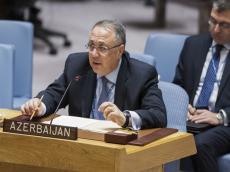 In a letter addressed to UN Secretary-General António Guterres, Azerbaijan's Permanent Representative to the UN Yashar Aliyev talked about the country's efforts to determine the fate of several thousands of its citizens, who went missing during the Armenian aggression in the early 1990s, Azernews reports.
The letter disclosed that as a result of the Armenian aggression, 3,890 Azerbaijani citizens had gone missing, 719 of whom were civilians, including 71 children, 267 women, and 326 elderly. Besides, it was mentioned that 872 people (605 military personnel and 267 civilians, including 29 children, 98 women, and 112 elderly) were taken hostage. The letter pointed out that nothing is known about their fates, adding that there are dozens of facts about the killing of Azerbaijani prisoners of war in Armenian captivity.
"At the end of 2020, evidence of Armenia's gross and systematic violation of international law was found in Azerbaijan's liberated territories. From February 2021 to November 2022, the remains of approximately 118 people were found in mass graves in those areas. The human remains demonstrate the deliberate killing of Azerbaijani civilians and other people under international humanitarian law. A mass grave unveiled in a mountain cave near Kalbajar District's Bashlybel village proved that the Armenian armed forces had opened fire on villagers, who had taken refuge in the cave, killing at least 12 people, including two children and five elderly," the letter underscored.
The letter underlined that another piece of evidence of this violence is the mass grave discovered in Khojavand's Edilli, where the remains of dozens of Azerbaijanis were found with their hands and feet tied. It was noted that more human remains of women and children were discovered in a mass grave in Khojaly District's Farrukh settlement and other liberated lands.
Aliyev highlighted that Armenia has refused to provide any information about the persons, who went missing during the nearly 30-year-long occupation. He informed the public that only in 2022 Armenia handed over 67 sacks with the mixed remains of 106 people to Azerbaijan.
"The fact that Armenia has kept these remains for thirty years, contrary to all moral principles, violating international humanitarian law and openly ignoring the right of people to know the fate of their loved ones, causes deep indignation," the official said.
Further, the diplomat stressed that up until now, Armenia evades providing information on mass graves in Azerbaijan's liberated territories, noting that the country's search operations are also hindered by a serious mine threat due to Armenia's refusal to provide complete and accurate maps of hundreds of thousands of mines planted in the territory during the occupation.
Aliyev also recalled that the General Assembly and the Security Council adopted a series of resolutions on missing persons, reiterating the obligations of states to prevent violence and account for the fate of missing persons under international humanitarian law.
"These obligations should be urgent measures in protecting the rights of victims and their families," he noted.
In conclusion, the diplomat strongly emphasized the importance for the international community to insist that Armenia fulfills its obligations on this issue.
Over 4,000 Azerbaijanis went missing as a result of the first Karabakh war. It is believed that the vast majority of them were systematically killed and buried in mass graves.