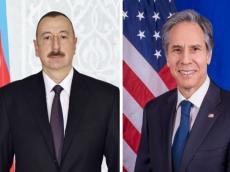 On 23 January, US Secretary of State Antony Blinken made a phone call to Azerbaijani President Ilham Aliyev, Azernews reports per the presidential website.
During the conversation, the US Secretary of State expressed concern over the situation on the Lachin corridor in the territory of Azerbaijan. Antony Blinken reiterated US commitment to normalization of the Armenia-Azerbaijan relations and support for the peace treaty talks.
President Ilham Aliyev said the Lachin-Khankandi road was not blocked, adding some 980 vehicles have passed through this road since December 12, 2022, of which over 850 belonged to the Russian peacekeepers and over 120 to the International Committee of the Red Cross (ICRC).
At the same time, the Azerbaijani president underlined that the ICRC had taken about 90 sick persons and those in need of medical assistance to Armenia. President Ilham Aliyev added these facts show that Azerbaijan did not close the Lachin-Khankandi road.
The president underlined that illegal operations on the mining sites must be stopped in the Azerbaijani territories where the Russian peacekeepers had been temporarily deployed with the permanent conditions to be created for the monitoring by Azerbaijan. The president of Azerbaijan drew Antony Blinken's attention to Armenia's use of the Lachin road for the illegal shipment of mines made in 2021.
President Ilham Aliyev reiterated Azerbaijan's commitment to the peace process and normalization of relations with Armenia. He underlined that the Armenia-Azerbaijan peace deal must include only the normalization of bilateral relations based on international law and principles, and five principles proposed by Azerbaijan.
President Ilham Aliyev noted that Azerbaijan would ensure the rights and security of the Armenian civilians living in Azerbaijan's Karabakh economic zone on the basis of the constitution and laws of the Republic of Azerbaijan.