Today the drivers of busses #110, 111 and 45 working in the route of Baku-Sumgait refused to work protesting against not increasing of fares.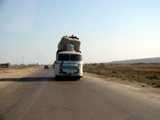 According to the information given to APA by the drivers, after diesel oil rose in price they earn AZM8000 of profit from each trip and it is not profitable for them.
The director of "Trans-Express" LLC making trips in the route of Baku-Sumgait Asaf Aliyev told APA that the drivers demand to increase fares from AZM1500 to AZM2000. He said that the demand of the drivers will not be satisfied unless the Tariff Council decides to raise fares. According to A.Aliyev, drivers not agreeing to it will be dismissed.