Military review on March 9 in Azerbaijan within the 60th anniversary of the victory on fascism will not be held.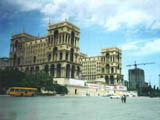 On the occasion of May 9, only solemn meetings for veterans of Great World War will be held in regions and cities. First deputy chairman of Republic Veterans' Council Alovsat Bakhishov stated to APA that, on the occasion of this day solemn review will be held in Moscow city.
5 Azerbaijani veterans will participate in the review by the invitation of Russia. Travel expenses of those veterans who will stay in Moscow from May 6 to 9 will be supported by Azerbaijan, but hotel and other expenses by Russian government.