The number of Falcons has decreased sharply recent years Shirvan bureau of APA was informed of it by the local residents.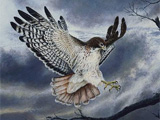 It must be noted that, there are 8 kinds of these bird the name of which has fallen to "Red Book" in our country. Shirvan zone as well as Gobustan territories is the main settlement of these birds. According to the local population, the falcons are bought by the foreigners and fetched from abroad.
They are used in foreign countries mainly for investigating drug addict-business activity, preventing gun smuggling, as well as in the discovery of oilfields. According to the information, the foreigners buy one falcon for nearly 500 dollars in Azerbaijan and sell them for much money in the foreign countries.
According to the specialists, if the act of plundering is not prevented this rare bird will be decreased in Azerbaijan in nearest future.