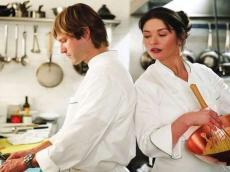 By Amina Nazarli
"A woman's place is in the kitchen," said Aeschylus in 467 BC. Do you agree with him? Do you think that this is the women who should always cook?
This is a disputable question. It's response has changed during decades and centuries with the change of each era's stereotypes.
So, it seems that there is no specific answer and the question needs to be considered from different angles.
Statistics suggest that the number of men trying the role of chef is higher than women-"chef" is usually imagined as a man with a white cap cooking.
But some people, mostly women, think that there is no need for men cooking constantly.
But which one is better, men or women? Then, the answer may be predictable - nine out of ten people would say that men cooks better. Let's analyze it more.
For women this career seems often harsh than creative. But men consider cooking as a creative process, engaging in it wholeheartedly.
If cooking for men seemed the same, the procedures would have killed their enthusiasm and certainly they couldn't boast about their culinary victories.
Maybe the reason behind the response is that men outnumber women among the chefs. Men are stronger physically but it does not mean that they cook better. It is no secret anymore that working conditions in the restaurants are quite heavy: Cooks are all day standing behind a panel and move a lot, thereby men are more robust than women in this respect.
There is nothing strange so far. If women can succeed in many male affairs why not men in female affairs? If the world's best designers, stylists and barbers are considered men, why they should not be the same in cooking?
Maybe women have come up with this idea to gradually transfer their duties to men. If so, it is very clearly thought-out plan to get rid of the hard duties.
Cooking, tiding and engaging in housework have long been considered feminine duties. So, it does not mean that men cannot cook.
However, my dear friends not all women agree that it would be nice if men spend much time in front of the panel every time cooking different delicious meals. Moreover, see the state of the kitchen after men's cooking! They treat like little kids: flour is scattered on the floor, the ceiling is spoiled by spots of tomato and a mountain of dishes cheerfully greeting women.
Notwithstanding, women will be pleased with such a transfer, as it releases them from their everyday duty at least for one day.
So, whom you prefer to reign in the kitchen -- men or women? The question is difficult to answer, but what I know the best chef is the one who cooks better.
So forget about who is cooking and put your focus on the meal itself.