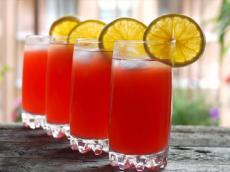 By AzerNews
The hottest month in Azerbaijan, August, has already arrived. To make the hot weather tolerable, people are seeking relief by resorting to icy beverages.
During this month, people prefer drinking more liquids but only a few people know what to drink.
Dietician Leman Suleymanova believes that people should drink more fresh water.
"In summer, human body demands more liquids. However, it should be used properly," she said to AzerNews.
Suleymanova calls us to drink more water, instead of gas-carbonated drinks that are full of poisoning chemicals.
Misuse and highly drinking of such beverage especially by young people leads to obesity, the rising problem in Azerbaijan, she said.
"Summer is a natural purification period and people should try to eat more fruits and vegetables to have enough vitamins for winter. Now we have so many fruits and berries that can provide people with vitamins naturally, making medicines and chemicals needles. Unfortunately we use this kind of vitamins insufficiently," she stressed.
Everyone knows that the human body is mostly comprised of a liquid, which means that any deviation from the norm may have unpleasant consequences.
Suleymanova said human body requires some 2.5 liter of liquids daily, which includes clear water, tea, juice and even juicy fruits.
However, the dietician puts the focus on pure water, which our body needs most, especially in summer.
All we know that in summer it is better and more pleasant to eat fatless food. Now the main question should be what we should drink in this hot period.
Suleymanova says we should start our day with fresh juice, which along with substantial breakfast, will energize us for the whole day. Now try this combination next morning and you will realize that you are more active and more positive along the day.
The favorite beverage of all Azerbaijanis -old and young - is tea, which is not a preferable drink in summer.
Two or three cups of fresh black tea are enough for a day, Suleymanova said. However, she noted the importance of green tea, which can be homemade with lemon and herbs and drank cool along the day.
Note that, it is better to drink tea an hour after the lunch, but not immediately, as we are accustomed to.
In the evening, it is preferable to drink kefir and homemade ayran, a cold milk beverage mixed with salt, Suleymanova said.
Do not use a lot of salt and sugar in your beverages in summer. It will not help you to deal with heat but would negatively affect your health.
The antihero list of the summer beverages that are harmful rather than helpful includes bear, and other alcohol drinks, sweet carbonated drinks, and coffee.
Unfortunately, ice creams are also out of use during summer heat and may cause even a chill.
In a nutshell, we can say that the list of the best thirst-quenching beverages include pure and mineral water, fresh juice, kefir and ayran, sugar free compote. These are our best friends in this hot weather.